Time
Jakarta WIB (GMT+7)
7:00 am - 10:30 am
Cost From
Rp 1,750,000.00
Dancing RBA Level 1&2 – Online – Jakarta
Description
This program implements the Secrets of Natural Walking through enjoyable online Dancing RBA sessions with lively music and slightly fast movements, providing not only a unique experience but also much deeper and clearer results.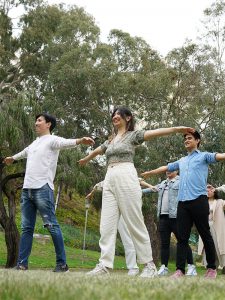 Participants have reported that the Dancing RBA workshops have helped them to:
Activate muscles and muscle fibers that were previously inactive
Significantly increase energy levels
Release tension and stiffness in the body
Markedly improve mood, leading to greater happiness
Enjoy RBA exercises more
Prerequisite
Have attended RBA Workshop 1 twice
OR have attended RBA Workshop 1 once AND have participated in 30 RBA Center sessions (no time limit)
Timezone
WIB (Western Indonesia Time)
Details
Instructor: IGPB Paramajaya
NOTES:
Zoom invitation information will be provided after proof of payment is received.
Please provide information once the transfer is done, via email at

[email protected]

or WhatsApp: +6289609461588.
Participants are advised to wear casual clothing that facilitates foot and body measurements, thus it is recommended to wear shorts above the knee or leggings for women.
Participants are requested to have a measuring tape commonly used by tailors to measure the body before the workshop begins.
The workshop will be conducted in both Bahasa Indonesia and English.
Detailed information is available in the electronic manual and will be sent after proof of payment is received.
How to Register
Click here for the registration link.
You will be redirected to the Lotus Garden website to register/login as a member of the Natural Way of Living.
Via WhatsApp
Rama: +6289609461588
Email: [email protected]
Workshop Fees
New Participant: Rp 1,750,000,-
Repeat: Rp 875,000,-
This fee includes:
Electronic Certificate
Electronic Course Book
Audio Recordings for Home Practice.
Payment can be made through Bank Transfer:
BCA – 4350105722 a/n I Gusti Putu Bagus Paramajaya
MANDIRI – 145 000 238 1362 a/n I Gusti Putu Bagus Paramajaya
(Please send the transfer receipt as proof)
Technical Prerequisite
This online Dancing RBA workshop will be conducted using the Zoom application.
Each participant is advised to:
Download and install the Zoom application, or ensure that the Zoom application is up to date
Have access to a computer and a stable internet connection for using Zoom
Ensure that the computer's microphone and camera are functioning properly
Be in a private and quiet room while attending the workshop
Avoid distractions and other activities during the workshop
Participants are responsible for ensuring that their internet connection, electricity, and related devices work properly during the workshop.
In case of power outages, internet disruptions, or device malfunctions, there will be no refund of fees.
Contact Us
Via WhatsApp
Rama: +6289609461588
Email: [email protected]
Workshop Fees:

New Participant: Rp 1,750,000,-
Repeat: Rp 875,000,-
Hourly Schedule
Saturday, 21 October 2023
07.00 PM

-

10.30 PM

Dancing RBA Session 1
Sunday, 22 October 2023
07.00 PM

-

10.30 PM

Dancing RBA Session 2